We are rural Colorado people with community at our core.
Serving the San Luis Valley and rural Colorado for more than 100 years, First Southwest Bank offers personal and business banking, agricultural, and business loans supporting rural people and communities.

FSWB and our employees live in and actively give back to the communities we serve. In 2022, FSWB invested $170,890 to 102 local organizations working to improve the health and well-being of our Southern Colorado communities.
FSWB is a locally owned, independent community bank with six Southern Colorado branches in Alamosa, Center, Cortez, Durango, Pagosa Springs, and Saguache. We are proud to be one of two
Community Development Financial Institution (CDFI)
banks in Colorado, and the only CDFI bank serving the Four Corners states.

As a CDFI, FSWB is working to improve the social and economic landscape of rural Colorado. We do this, in part, by securing and deploying private and public resources unavailable to other banks. We provide equitable access to capital through low-cost, fixed rate loans for agricultural and small businesses, workforce housing, mortgage and rental assistance, energy efficiency and solar enhancements, educational and healthcare facilities, and other community needs.

In 2022, the Colorado Department of Agriculture selected FSWB to serve as its financial partner to administer the new $25 million Colorado Agricultural Future Loan program developed to increase participation from next-generation farmers and ranchers, expand diversity, and strengthen Colorado's agricultural industry.
In 2022, we were again named the U.S. Small Business Administration Colorado Rural Community Lender of the Year, and the winner of the Alamosa Chamber of Commerce 2022 Spirit of Alamosa award. Together with our nonprofit partner,
First Southwest Community Fund
, we ensure that our region's entrepreneurs, small businesses, and nonprofit organizations have access to the inclusive and equitable capital they need to grow and enrich our communities.
We are always listening to the needs of our communities. To share ideas, or for more information, please contact:
Kent Curtis  |  President & CEO
970-375-1100
First Southwest Bank is a member of the Community Development Bankers Association; see their site for more information on
Community Development Banks
.
Our Achievements
2022 Spirit of Alamosa — Alamosa County Chamber of Commerce
2021 Business of the Year — Pagosa Springs Chamber of Commerce
2020 Business of the Year — Durango Chamber of Commerce
2022 & 2021 Community Rural Lender of the Year, #1 Colorado‑based
Lender & Preferred Lender Provider — U.S. Small Business Administration
Our Board of Directors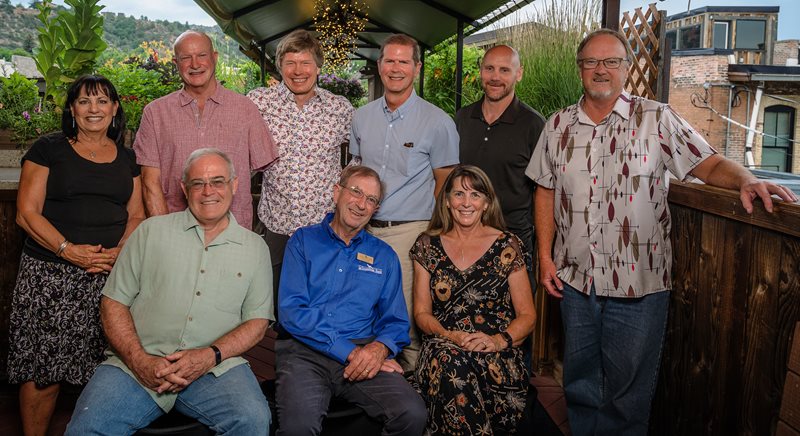 Seated, L to R: John Smith, Tim Gallagher, and Jennifer Ostenson 
Standing, L to R: Pamela Bricker, Barry Spear, Bryan Dear, Will Spears, Jed Ellithorpe, and Kent Curtis